Getting your home ready for a spring sale can seem like a daunting task. Here are some great strategies to prepare your home, sell faster and make the most money on your spring sale.
Before the Pre-Listing Inspection Repairs
I highly recommend a pre-listing home inspection. It allows you to make any needed repairs before it becomes an issue with a buyer. If you plan on marketing your pre-listing inspection, you still want to limit the issues on that first report. Making that report as clean as possible indicates to buyers that you have cared for and maintained your home. Granted, there will be things found in this inspection and you can show buyers that you addressed them, but anything you can eliminate prior to inspection will help.
Make any minor repairs that you have been putting off. Fixing that leaky sink or loose door knob are small projects that you can easily address before the inspection.
Take a day to tackle those spring maintenance tasks.
Replace HVAC filters

Clean gutters

Check and replace all smoke and carbon monoxide detector batteries

Replace the battery on your thermostat (ask HVAC guys how many times they've gone on service calls and it was a bad thermostat battery)

Replace any caulking or weather stripping that may have been compromised over the winter

Check for leaky faucets and clean any clogged drains
For a great look at the most common maintenance issues found in home inspections, see Top 10 Maintenance Issues Found in Homes in 2020…. and How to Fix Them. For more in depth info see Repairs to Make Before You Sell Your Home – Part 1 The Interior and Part 2 The Exterior
Have your Pre-Listing Inspection
Now that you've done all you can to get your home in tip top shape, let the professionals take a look. By having a pre-listing inspection, you are showing prospective buyers that you are being open and honest about the condition of the home and have addressed any issues. Most buyers have a fear that homeowners are hiding something. If they order a home inspection and issues are found, there is a bigger chance that the sale will fall through. In fact, issues on home inspections and financing are the two biggest reasons home sales fall apart. 
A pre-listing inspection is also a great marketing tool. Buyers are attracted to a home that is turnkey. They know it is safe, free from major defects and they can just move in and make it their own. 
A pre-listing inspection also gives you a realistic view of your home's condition and will allow you to price your home appropriately. A properly priced home sells faster!
Finally, a pre-listing inspection saves you money! By finding out about needed repairs ahead of listing, you can control how the repairs are made. If issues are found by a buyer's inspection, they now have a say in how it is handled. They can try to renegotiate the price. They can get involved in who makes repairs. It is just less expensive if you have control and manage it up front. Studies have also shown that homes with pre-listing inspections get higher offers! Simply said, pre-listing home inspections show a return on investment for the seller.
Help out your home inspector by reading How to Prepare for a Home Inspection.
Make Any Post Inspection Repairs
Now you have your pre-listing inspection report. Time to tackle any of the small maintenance items you may have missed and showed up on the report. Hire a professional to deal with major defects that you aren't qualified to handle. Make sure you keep your repair paperwork and keep it with your inspection report. When you do list and your realtor does showings or open houses, you will want to put the inspection report and all paperwork showing you made needed repairs.
Time to Tidy Up
You've made all needed repairs and now you are going to list your home. Now it is time to tidy up and get your home ready to show. 
Outside – Spring is a great time to show off your property and first impressions are important!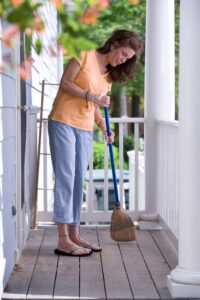 Make sure shrubs and trees are trimmed and looking their best.

Clear away any leaves, debris and branches laying in the yard.
Pick up any toys laying around.

Sweep off walkways, decks and your driveway.

Add some new plants or flowers to improve your curb appeal.

Pay attention to color. A fresh coat of paint on the front door and coordinating flowers can make a great first impression.
Inside – Decluttering is the most important thing when showing your home. Buyers have a hard time looking past clutter and you want them to imagine themselves in the home.
Declutter – less is more!

Consider a temporary storage unit if you have too much stuff

Deep clean

Remove some personal items. You obviously don't have to take down all of your family photos, but reducing them helps buyers imagine it as their home. You may also want to remove medications, jewelry and other valuables. Place them in a safe or take them with you when showing your home.
For more cleaning tips check out Clean House Tips for Sellers by The American Cleaning Institute or Deep Clean Like You Mean It by Homelight.
Take Great Photos!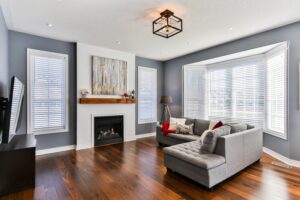 You don't necessarily have to hire a professional photographer, but you do need amazing pictures. These days most cell phones take high quality pictures and some even have wide angle options. They can be just as effective as professional photos if taken correctly. Watch a few videos on YouTube or read a few articles to get tips on how to take the best photos. If your realtor is taking the photos, make sure they do a great job, do it yourself or consider hiring a professional. Using proper angles, lighting, staging and vignettes will help your photos impress potential buyers and get more showings.
Here are a few resources for great real estate listing photos:
How to Take Real Estate Photos That Will Sell Your Home 32% Faster by Homelight
Learning to take Pictures of Houses and Real Estate by Justin Reves
Real Estate Photography Tips! by Boxbrownie.com
A Pre-listing home inspection, spring cleaning and maintenance and some great photos will help you sell your home faster and for more money!