Radon testing, a measurement done to detect the presence of radon gas in our homes, could theoretically prevent 20,000 deaths from lung cancer each year in the United States.
Radon gas is an invisible, odorless gas that is produced by the normal breakdown of uranium in the soil. Although some regions of the U.S. have higher levels of radon, elevated levels have been found in homes in all 50 states, and around the world.
Our Inspection
We recently purchased brand new radon testing machines (Ecosense Radon Eye) that provide 48 hr electronic continuous radon measurement with a graph displaying the results from each hour measured, if it has been tampered with, and quick results for real estate transactions. These machines are the latest most accurate equipped with On board ultra-sensitive 30 CPH patented radon detection technology instrumentation for >8X accuracy.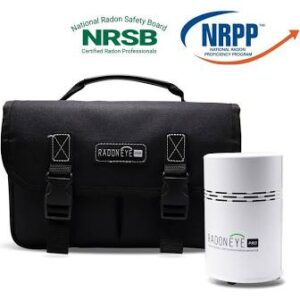 More Great Info