Experts are warning that a natural gas shortage could cause heating prices to rise this winter. This year's fall maintenance blog will focus on ways to prepare your home for winter so you can keep your heating bills as low as possible.
Energy Savings
Home Energy Audit
Now is the time! Many local utility companies will provide a free or cheap home energy audit. It is a great way to learn where you can save money on your utility bill but is also a great little extra to provide buyers. Check here for local Xcel programs
Insulate, Insulate, Insulate!
Most homes in the US are not insulated properly. This can cause a loss of heat and higher energy bills. Insulating your attic with fiberglass insulation will more than pay for itself in energy savings. It's been shown to have a 117% return on investment. 
Caulk and Weatherstrip Doors and Windows
If you can afford it, replacing inefficient windows and doors is a great idea. The next best option is to determine where there are gaps in the window sealing outside and caulk with an exterior grade caulk. Use weather stripping on the inside windows and doors for an extra layer of protection.
Clean Chimney and stock up on Firewood or pellets
If you use a wood furnace, wood stove or pellet stove to help heat your home in the winter, now is the time to clean your chimney. Even if you don't use your fireplace very often, you should still do a yearly inspection to make sure it is clean and safe to use. With heating prices on the rise this winter, you may want to consider using this cheaper heating source more. Stock up on wood or pellets early. There have been pellet shortages the last
few years and with the current supply chain issues, it could get worse.
Invest in Smart Thermostat 
While most standard programmable thermostats can help regulate when your heat is on, most homeowners never even program them. Even if they do, patterns in usage change and can leave your home uncomfortable or wasting heat and energy when you aren't home. The newer smart thermostats are able to learn your patterns and adjust accordingly. Smart thermostats can help you save energy and money on your heating (and cooling) bill.
Other Fall Maintenance Tips
Clean Gutters
Cleaning your gutters keeps the flow of water away from your foundation and exterior walls. It is imperative you keep them clean to protect your home. Mesh gutter guards are a great way to allow the flow of water and protect your gutters from debris.
Protect Outside Faucets
Sillcock is just another name for your outdoor faucets and they can freeze in winter which can cause tremendous damage to your home. Installing frost free sillcocks can help prevent this from happening. Be sure to make sure you test for leaks after installation. If you aren't a do it yourselfer, you can always buy faucet covers for just a few bucks. 
HVAC Clean & Check
It is always a good idea to have your furnace cleaned and checked in the fall to prepare for the colder months. It is usually cheaper to find problems early and nobody wants to be freezing while they wait for a repair person to come in the dead of winter. Furnaces also perform better and run more efficiently if they are clean and in top notch condition. If you have a newer system, your warranty may be contingent on regular maintenance. At the very least, make sure you change your furnace filter.
Get Your Snow Removal Equipment Ready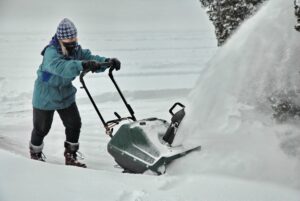 Get out the snowblower or plow and get it ready before the cold weather hits. Trust me…you'll thank me for this. I've seen it a million times because many of us are procrastinators. The first big snow hits and the kids don't have boots yet, the dogs don't want to go outside and pee AND we are outside with a snow blower or plow that won't start. It's best to just get it tuned up and running early…..and don't forget to get the kids some boots!
This certainly isn't everything you can do to get your home ready for winter, but it's a good start. Hopefully this will help make your home more efficient and keep your heating bills down this winter.