With Covid cases increasing all over the country, families worry about keeping kids active and happy during the long winter months. Here are 7 ways to keep your family safe and happy this winter.
1)
Cross Country Skiing or Snowshoeing
– These winter sports can be an affordable way for your family to make memories and get great exercise in the winter. The first time expense of equipment can be a little scary but try using a resale sports shops or Facebook Marketplace to find deals. The La Crosse area has many great spots like the
La Crosse River State Trail
or
Goose Island Park and Campground
.

2)
Rotary Lights
– Whether you go every year or it's your first time, the
La Crosse Rotary Lights
at Riverside Park in La Crosse will not disappoint. With over 3,000,000 lights on display, the drive through option will keep your family safe and happy this season. Your entire family will enjoy the lights, live nativity, waving to Santa and the opening night fireworks. Make a night of it! Pack some treats, be sure to bring a thermos of hot chocolate and make great family memories! While this is a free event, a food donation (non perishable) is appreciated.

3)
Go Sledding
– Put some warmers in your gloves and boots and grab a sled! The La Crosse area has many sledding hills to enjoy as a family. Van Riper Park in Onalaska has a lighted hill and Deerwood Park in Holmen has several hills. Try to find a time when it isn't busy and be sure to social distance. If public hills are busy, you might know a friend or family member that has a great spot.
4)
Try Ice Fishing
– With an abundance of lakes in WI and MN, ice fishing is a great way to enjoy the outdoors this winter. The
Wisconsin DNR
offers a free weekend on January 16 & 17, 2021 where you don't need a license. If you are a first time fisherman or woman, you can get a $5 license for the whole season!
5)
Enjoy Your Own Backyard
– Plan a winter fun day with your kids. Make a hot chocolate bar with special candy and treats, build a snowman or better yet team up and have a snowman contest, build a snow fort, or have a snowball fight. Turn to YouTube, Pinterest or sites like
Little Spice Jar
for ideas on how to put together a great hot chocolate bar.
6)
Friluftsliving
– Say what?
Friluftsliving
is a Norweigian tradition and it means "free air living". Since covid, it has become a popular way to enjoy the outdoors. While it can mean hiking and exploring nature, it can also be a cozy quiet time in your backyard or patio. Cozy up your outdoor space with a fire or electric heater, get comfy chairs and soft cozy blankets, layer up and enjoy!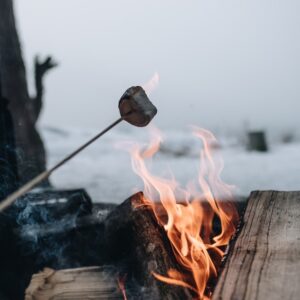 7)
Family Game/Movie Day
– Break out the board games or favorite family movies and make a day of it. Anyone with teenagers knows that it is hard to get them off their own devices and spend some quality time. If you find the right game or a movie you all love, they will appreciate the time spent. Pop some popcorn, thow in a pizza or make their favorite snack. Try some new games like these crazy minute to win it games from
Playtivities
.
Winter has arrived! These fun activities will keep your family healthy, fit, entertained and happy. I hope you enjoy and have a great winter season.