Part 3: The Kitchen
The kitchen is a major point of inspection as there can be a wide array of problems including plumbing and non working appliances. In Part 3 of Common Defects Found on a Home Inspection, I will discuss the extent of testing and common issues found in the kitchen.
PLUMBING:

When inspecting the kitchen, the plumbing is often an area I find issues. I check the overall condition of the kitchen faucets, sprayers and shut off valves. I want to make sure there are no leaks.  If there isn't a shut off valve for the hot and cold water lines and dishwasher, I will recommend it. I will also look at water flow from the faucet. Is there a normal steady stream and does it stay that way when several fixtures are running at the same time? The kitchen drain and garbage disposal are inspected.  Does the sink drain properly? Does the garbage disposal work properly? Drain lines are checked for leaking or back up.

Home inspectors should also check for air gaps. An air gap is a small fixture mounted parallel to the faucet. The drain hose from the dishwasher feeds into the air gap to prevent back-flow. In the event of a sewer back up, the air gap prevents sewer matter from entering the dishwasher. If there is not a proper air gap, I will recommend one be installed by a qualified plumber.
COUNTERTOPS & CABINETS:

Countertops and cabinets are particularly important to new homeowners. Countertops can be made of many different materials including laminate, butcher block, stainless steel, tile, quartz or cultured stone and natural stone. As a home inspector, I may note cosmetic issues but I really focus on functionality. I look for loose or missing pieces, rot in the substrate or base (which is often due to leaks), and stains or rust.

Cabinets are often made of real wood, particle board with laminate or metal. I always check for stains or rot because they can indicate leaks from faucets, roof, walls, or other areas. Worn or damaged cabinets can be safety issues like loose cabinets, broken glass from cabinet doors or unsturdy shelving. I will also open and close all doors and drawers to make sure they are working properly and hardware is not damaged.

Proper clearance between the bottom of the cabinet and the range is important to prevent fires. The amount of clearance required depends if there is only a cabinet, a metal hood fan or a microwave hood fan. Improper clearance must be noted on the home inspection.
WALLS, CEILING & FLOOR: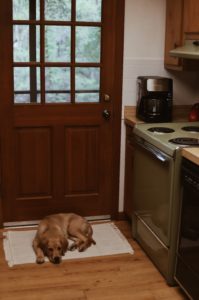 Walls, ceiling and floors should be inspected as they would be in the rest of the home. I look for cracks, damage, stains that may indicate a roof, window or skylight leak and other defects. Missing or cracked tiles in the floor or significant cracks in the ceiling or walls will be noted. I will discuss more about walls and ceilings in part 4 of Common Defects found in a Home Inspection.

APPLIANCES:

The most important thing to note when it comes to appliances and the home inspection is that they are tested for operation only. I, as well as most home inspectors, check to see that the appliances are functioning properly. We do not check the quality of the appliance or make a guess as to the life expectancy or quality of operation. For example, I will note that a dishwasher runs properly but won't know if it cleans the dishes very well.
The kitchen is a very important part of the home inspection. New homeowners want to know that there aren't any significant issues with plumbing and appliances. I invite buyers to walk through the entire home with me but especially encourage a kitchen walk through.