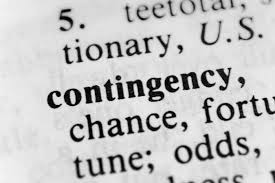 The dictionary defines a contingency as "a future event or circumstance that is possible but cannot be predicted with certainty." That's an accurate definition for home buying contingencies, as well. When you include these items in a purchase contract, you are giving yourself a way to back out of the contact/deal if a certain event or circumstance occurs. Another way to think about it: A real estate contingency is a condition that must be met in order for the deal to go through. It is a requirement for the completion of the sale.
There are many kinds of contingencies such as home inspection , financing, sale of your current home, environmental testing (mold, radon, lead based paint) there is no limit to how many purchase contingencies you can put into your sales contract. This is very common for any home sale contract…. But, as a home buyer, you could attach as many real estate contingency items as you want. It might make the seller less inclined to accept your offer, which is something to consider. It is your legal right to include them as its protection for yourself.
In a "Hot" market when a house has multiple offers a dangerous trend is happening where people are removing the home inspection contingency to make their offer more attractive to the sellers…THIS IS A HORRIBLE IDEA! Now i'm not just saying this cause it involves my profession it is for your protection of your family, your wallet and your piece of mind. At a bare minimum a home inspection contingency absolutely should remain in the contract. Many times in a "hot" market with low inventory multiple offers can escalate the offers and many times the highest bidder wins..but maybe not if one of the offers removes their home inspection contingency…so not only are they paying over asking price but they have removed their protection from defects that may be in the home.
I will never understand the state of mind of people who are spending 200-300K on a property and can pass up the inspection without blinking but will fight tooth and nail to get a sale price at a retailer to save a couple dollars. Click for more information