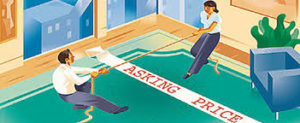 So you've had your home inspection and now you know the potential safety hazards, major concerns, deferred costs, and improvement items. This is great to know what condition things are in even though it may not seem like it since you just got handed a list of repairs on your current home or potential future home. What to do with that list off repairs? Well in a typical real estate transaction you have options on how to move forward
1.Ask for repairs to be made
2.Renegotiate price
3.Cancel the purchase agreement
4.Preform repairs after the sale is complete
Asking for repairs typically major concerns and safety hazards are the negotiating aspects in which your realtor will guide you through. First you will need a cost/estimate of repairs to negotiate with which will lead you to contact qualified licensed contractors wether it's plumbing, electrical, or general construction. Now this is where it can get interesting many times the sellers will want to get their own "contractor" I ALWAYS recommend to contact licensed and qualified contractors but the seller may want to hire a family member who will do it cheap, they may even try to tackle the project themselves, or just a contractor they know to get them a bid. IT is absolutely necessary to have a contractor acting and supplying a estimate of repairs with your interest in mind as the sellers contractor is supplying one for them and may not have the whole scope of repairs in which can result in two completely different prices for repair. Many times I have been called back to verify work that was completed only to find out it was done incorrectly, not completed at all, or only partially completed. Nothing can be more frustrating and deals will start to head south when people feel lied to or taken advantage of. If a seller whats to hire their contractor ASK to see the estimate if possible, verify that the companies supplying the estimates are licensed and qualified, and that the estimates are apples to apples in the scope of the repair work!! Remember anything can be repaired…but was it repaired right?
Renegotiating Price The sellers are on their way out and may want to just renegotiate the purchase price or offer a credit at closing. If the property is moving toward closing, they're likely packing and dreaming of their life post-sale. The last thing they want to do is repair work on their old home. They may not approach the work with the same conscientiousness that you, as the new owner, would. They may not even treat the work as a high priority. If you take a cash-back credit at close of escrow, you can use that money to complete the project yourself and hire who you want to do the work.IF you get the credit, there will be less back-and-forth to confirm that the seller correctly made the repairs. Remember anything can be repaired…but was it repaired right?
Canceling the Purchase Sometimes the amount of repairs just doesn't make sense to buy. This can vary depending on each individual, their skill set, time and money they have to dedicate to a property. It may also be that the buyer and seller can reach an agreement of repairs or price reduction. In this situation sometimes it is best just to walk away.
Preform the Repairs Yourself There are times when again buyer and sellers cannot reach an agreement but the buyer still wants to purchase the property. Home inspections are not meant to beat up the seller to fix every little detail. There is no such thing as a perfect home Things happen over time and normal maintenance is and will be needed.
In conclusion these negotiations can vary depending on market conditions, attitude and personality of the either party (buyer/seller), or the negotiating style of each realtor on either side of the transaction. Attached are few links for more information about this process click here